Sreejesh Valliyodon
June 2, 2023
2023-07-26 8:02
Sreejesh Valliyodon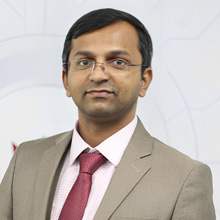 Areas of responsibility:
Programme Leader, Teacher & Assessor (Information Technology & Computing)
Background:
Sreejesh is a dedicated and a committed academician with over 16 years teaching experience in the UAE.
He has a Bachelor's degree in Computer Science (BSc) and a Master's degree in Computer Applications (MCA).
Sreejesh never seeks to offer direct answers and solutions, but rather places a significant emphasis on developing student learning through active participation, dialogue and practical exposure.

Sreejesh's teaching and pedagogic practice is shaped by Aristotle's quote on education… "Educating the mind without educating the heart is no education at all".

Sreejesh exemplifies lifelong learning, and considers himself a perpetual learner of multimedia. He is also an ardent cricket fan.