Jinju Joby Pulikken
June 2, 2023
2023-07-26 8:16
Jinju Joby Pulikken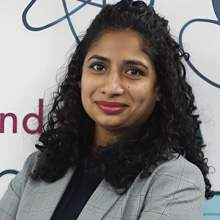 Areas of responsibility:
Teacher & Assessor (Information Technology & Computing)
Background:
Jinju has extensive experience as a user interface (UI) application developer and has quality assurance (QA) experience in the technology sector working for renowned multi-national companies.
Jinju has a Bachelor's degree in Engineering (BE) in Information Science Engineering, and a Master's of Technology degree (MTech) in Computer Science and Engineering. She is a passionate and scholarly educator and has presented her research in multiple peer reviewed settings, including the Institute of Electrical and Electronics Engineers (IEEE) conference, the International Journal of Computer Applications (IJCA), and her research on Data mining at the international Conference on Advances in Computing and Communication Engineering International Conferences.
Alongside Jinju's commitment to education and her role as an educator, she has an obvious and infectious passion for all things related to technology, programming, website development and the Internet of Things. She blends both her passions (technology and education) to help shape and create inspired and career-ready IT professionals.
Outside of work, Jinju is a movie fanatic;
everything from Marvel to Inception.