Sepideh Samadi
June 2, 2023
2023-07-26 8:08
Sepideh Samadi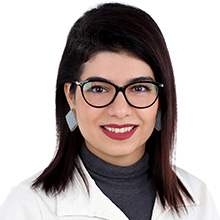 Programme Leader, Teacher & Assessor (Business)
Background:
Sepideh is a passionate educator who is committed to providing learners with a high-quality educational experience. She is an accomplished professional with over a decade of experience in teaching and senior administrative roles in higher education within the UAE.

Sepideh holds a Bachelor's degree in Business Administration (BBA) and a Master's degree in Business Administration (strategic marketing) (MBA) from the University of Wollongong in Dubai. Sepideh is currently a PhD candidate at The University of Bolton (UK).

Her educational background has equipped her with a solid foundation of both theoretical knowledge and practical application.

Throughout her career, Sepideh has worked in prestigious educational institutions affiliated with the Ministry of Education in the UAE. She has excelled as a lecturer, Head of Faculty Professional Development at The American College of Dubai, an IB Business teacher at Adab International School, a Business Faculty member at BITS Pilani, Dubai campus, contributed as an Instructor at The University of Wollongong in Dubai as well as served as a Career Advisor, Senior Student Relations, and lecturer at The British University in Dubai.

Sepideh is also a TEDx and GESS Education speaker where she shares her ideas, knowledge, and experience in different areas. She is actively engaged in scholarship, research and contributing to the advancement of knowledge in her area of expertise. Sepideh has published several papers in international journals and has presented her research at peer reviewed international conferences.